Strong Improvement also Seen in Fab Construction
By Christian Gregor Dieseldorff, SEMI Industry Research & Statistics (June 1, 2012)
Breaking the barrier into positive growth for 2012, the end-of-May edition of the World Fab Forecast shows improved growth in fab equipment spending this year — at US$ 39.5 billion, a two percent year-over-year (YoY) increase.  For 2013, fab equipment spending is expected to reach an all-time record high, with $46.3 billion or 17 percent growth from 2012. Even with a small growth rate, 2013 is destined to be an all-time record high for fab equipment spending, if macro-economic factors do not intervene. (See Figure 1: Fab Equipment Spending)
This latest data was published in the May edition of the "World Fab Forecast" updating the previous February 2012 report which projected 0 percent year-over-year (YoY) growth for a total of US$ 38.8 billion  Using a bottom-up approach, the quarterly World Fab Forecast report tracks multiple projects in over 1,150 fabs worldwide. Since the February edition, over 340 updates have been made concerning more than 225 fabs, keeping the industry up to date on the ever changing announcements of spending for fab equipment and construction.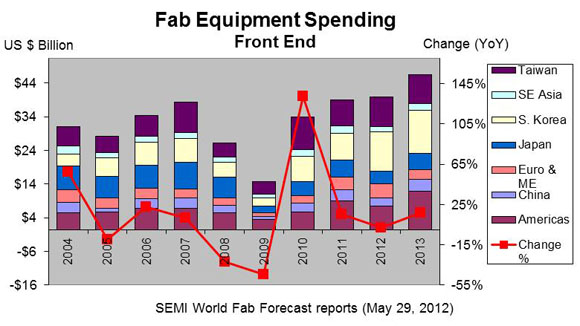 Regions planning to spend the most on fab equipment in 2012 are: Korea (over $11 billion), Taiwan ($8.5 billion), the Americas ($8.3 billion), Japan ($3.8 billion), and Europe/Middle East ($3.5 billion).  In 2013, the largest spending is expected again in Korea (over $12.5 billion), the Americas (over $11.5 billion), Taiwan (over $8 billion), Japan (over $4.5 billion), and China ($3.6 billion).
All product types are increasing equipment spending in 2012. The largest increase seen in 2012 is for Memory and Foundry. Some of the System LSI is moving from Logic/IDM to Foundry which causes spending for Logic/IDM to taper off a bit. Although Intel plans historic high capex in 2012, Front End equipment spending for MPU is not expected to increase much in 2012.
Strong Improvement in Fab Construction Projects
Since the beginning of 2010, SEMI expressed concern about the drastic decline of new IC fab construction projects. This trend of new fab construction projects continued to decline with a concerning rate especially for the 2012 and 2013 outlook. By the end of 2011, however, the picture began slowly changing. Companies increased their capex forecasts and announced new plans for fabs, so we now see an improved outlook for construction spending when compared to just a few months ago. (See Figure 2: Fab Construction Spending February 2012 and May 2012 outlook)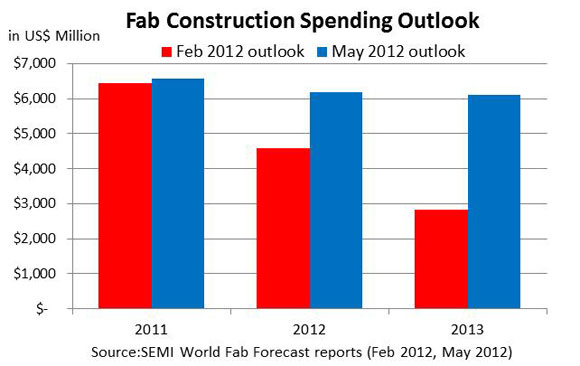 Since the February 2012 report, SEMI has learned of more fab construction projects: 45 planned projects (including new and on-going) in 2012 (up from 39) and 24 planned in 2013 (up from 21). Fab construction spending will drop only 6 percent in 2012 to $6.2 billion, much improved from the 28 percent decline forecasted in February. Fab construction spending in 2013 is also expected to improve drastically, with a decline of about 1 percent to $6.1 billion, rather than the 39 percent decline forecast in February 2012 and, again, close to breaking the 0 percent barrier. (See Figure 3 Fab Construction Spending over Time)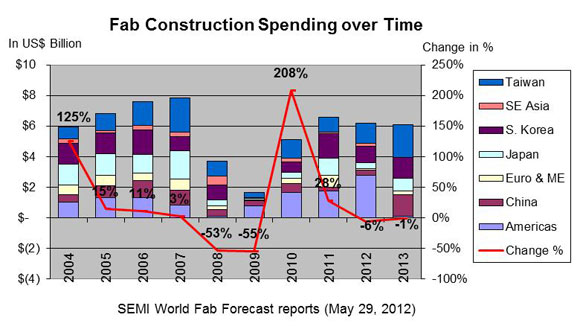 Although the reign of new LED fabs has come to an end, other companies have come forward with announcements, some with huge sums.  For example, Samsung announced an investment of $8 billion for a Memory fab in Xian, China, which is expected to start groundbreaking in fourth quarter 2012. Another recent announcement on this scale comes from UMC who plan to spend almost $8 billion on its P5/P6 fabs that began construction in May 2012. Plus there have been new fab announcements such as from TSMC, Intel, and SMIC. We also expect Samsung to begin with Line 17 soon.
In 2012, 11 new fabs will begin construction (increased from the forecast of 7 in February's report). In 2013, however, only 7 new fabs will begin construction, though this picture may change the closer we get to 2013.
Examining fab construction spending by region, top spenders for 2012 will be the Americas ($2.8 billion), Taiwan ($1.3 billion), and Korea ($1.1 billion). In 2013, top spending regions will be Taiwan ($2.2 billion), China ($1.4 billion), Korea ($1.4 billion) and Japan ($850 million).The largest three construction projects in 2012 are by Intel, TSMC, and Samsung and in 2013, by Samsung, TSMC and UMC.
The combined planned capacity of all new fabs beginning construction in 2012 will be 900,000 wafers per month (in 200mm equivalents). Memory accounts for 60 percent of this capacity, Foundry 20 percent, and System LSI another 20 percent. In 2013, the new fabs will add planned capacity for 550,000 wafers per month. Half of the growth will be seen in Foundry, a bit less than half in Memory.
Capacity Growth: Slower in 2012 but Stronger in 2013
In 2012 we expect about 38 companies to add installed capacity and about 37 companies in 2013. This is fewer than the number of companies that increased capacity in in 2010 and 2011, which reflects a smaller growth rate for capacity forecasted this year.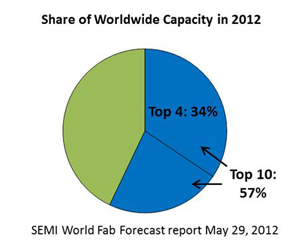 In February's report, SEMI forecasted that installed capacity would increase 5.3 percent in 2012 (to 16 million 200mm wafers per month); as of May, it appears that capacity will increase more slowly to just 3.6 percent growth for the year (to 15.9 million in 200mm wpm equivalents).
For 2013, installed capacity is projected to grow by 7 percent, to 17 million wpm.  Logic will lead this growth, with over 6 percent capacity increase, followed by Foundries with 5 percent, and Memory with 3 percent.  In 2012, ten companies will have about 50 percent share of all worldwide capacity. (See Figure 4: Share of Worldwide Capacity in 2012)
The four companies with capacities of over 1 million wafers per month (200mm equivalents) are Samsung, TSMC, SK Hynix and Toshiba/Sandisk. Their combined share is about 34 percent of all worldwide capacity. The share of installed capacity for Samsung alone is expected to be 13 percent in 2012 and 14 percent in 2013.
A Good Year 2012, a Great Year for 2013
In summary, we expect 2012 to be a much better year for fab equipment spending with most product segments to begin to move into positive growth rates. With many new fabs beginning construction, equipment spending for 2013 is expected to be an all-time record year. Growth rate of capacity is slowing below 4 percent in 2012, but is expected to pick up to about 7 percent   in 2013 as newly installed capacity comes online.
SEMI Industry Research and Statistics Group: a Worldwide Dedicated Team
Since the last fab database publication at the end of February 2012, SEMI's worldwide dedicated analysis team has made over 340 updates to more than 220 facilities (including 58 LED fabs) in the database. The May edition of the World Fab Forecast, lists over 1,150 facilities (including 305 Opto/LED facilities), with 73 future facilities starting production this year and into the future.
The SEMI World Fab Forecast uses a bottom-up approach methodology, providing high-level summaries and graphs; and in-depth analyses of capital expenditures, capacities, technology and products by fab. Additionally, the database provides forecasts for the next 18 months by quarter. These tools are invaluable for understanding how the semiconductor manufacturing will look in 2012 and 2013, and learning more about capex for construction projects, fab equipping, technology levels, and products.
SEMI's Worldwide Semiconductor Equipment Market Subscription (WWSEMS) data tracks only new equipment for fabs and test and assembly and packaging houses.  The SEMI World Fab Forecast and its related Fab Database reports track any equipment needed to ramp fabs, upgrade technology nodes, and expand or change wafer size, including new equipment, used equipment, or in-house equipment.
Also check out the Opto/LED Fab Forecast.
Learn more about the SEMI fab databases at: http://www.semi.org/MarketInfo/FabDatabase and http://www.youtube.com/user/SEMImktstats