By Heinz Kundert, president, SEMI Europe
European competitiveness in the semiconductor industry was the focus of the SEMI Industry Strategy Symposium Europe 2012 executive conference recently held in Munich, Germany. Over 200 delegates from 20 countries gathered to hear about the strengths and issues of concern for chip manufacturing in Europe, including the implications of the industry-wide transition to 450mm manufacturing technologies and the important role that European equipment and materials companies play in the global market.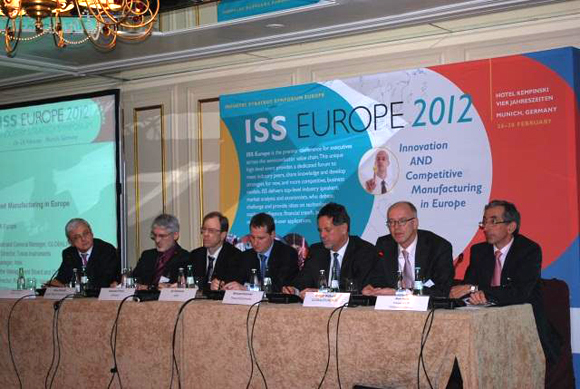 The orientation toward R&D investment strategies occupied much of the discussion in the context of a looming deadline for significant European Union policy decisions. Soon, European Union (EU) officials will determine a series of high-tech investment plans to support Key Enabling Technologies (KETs) and establish public funding mechanisms for the next seven years within the framework of the Horizon 2020 Initiative. The resulting R&D support could potentially amount to several billions of Euros across several innovation sectors and have a critical impact on the future of the microelectronics industry on the continent.
The discussion triggered debate on the appropriate emphasis of policy incentives and contrasted funding aspirations in support of a vibrant regional 450mm supply chain with other policy objectives to support existing manufacturing and R&D regimes. Most agreed that a balanced approach was in order to address political necessity and expedience.
Referencing the increasing concentration among the top three industry capital spenders, IC Insights President Bill McClean said that, "we will look back and see that 2012 was when the fabric of the IC industry changed."
With Samsung, Intel and TSMC slated to spend US$ 13 billion, $12.5 billion and $6 billion respectively this year, chip manufacturing is segregating into mega-spenders and the rest. The seven companies with the highest installed capacity (Samsung, Intel, TSMC, Toshiba, Hynix, Micron and Globalfoundries) are also the only seven companies that McClean believes will eventually migrate to 450mm. If Europe has 450 manufacturing capacity on the continent, it will come from one of these companies, he says. However, Europe will need to keep the infrastructure and suppliers to attract such a manufacturer.
Malcolm Penn, CEO, of market research firm Future Horizons, cast a more pointed tone, saying that, "If Europe doesn't embrace 450mm, Europe will be history."
In fact, Penn believes that the 450mm era will "herald new ways" and may ultimately introduce a less adversarial business model given the intense requirements for collaboration to implement the technology.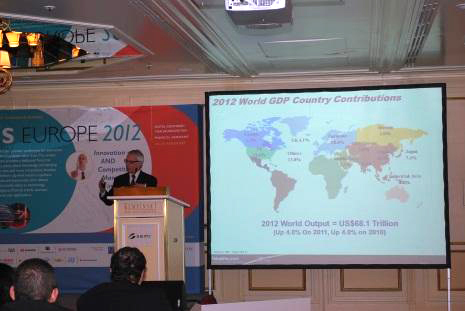 Bas van Nooten, director European Cooperative Programs, ASM International and spokesperson for the European Equipment and Materials Initiative (EEMI) said that the European semiconductor equipment and materials industry employs more than 100,000 people, yet the major market for this industry lies outside Europe. Therefore, if the world's leading semiconductor suppliers are moving towards 450mm under the auspices of the Global 450 Consortium (G450C), it is key for the European supply chain to be prepared for the wafer transition.
He references the EEMI450 White Paper, which was recently presented to the European Commission and concludes that support and collaboration across all elements of the research and development operation, including National Governments, is vital to maximize 450mm European equipment and materials manufacturer readiness and subsequent market opportunity.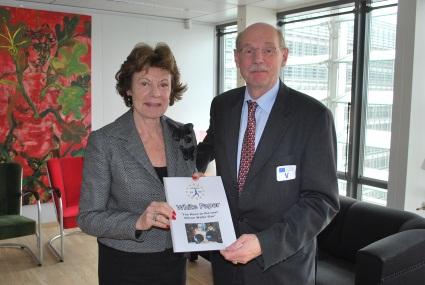 The White Paper summarizes that the EEMI450 Initiative has already been successful in launching the current ENIAC EEMI450 project working on 450mm "proof of concepts," and also the CATERENE SOI450 and NGC450 projects in Europe. Further proposal submissions are planned, including the recent ENIAC Call 5 European Equipment and Materials 450mm Pilot-line readiness project.
Imec president and CEO Luc Van den hove, said that to maintain long-term innovation leadership position in Europe, it will be imperative to set up a 450mm R&D and demonstration facility. It will be needed to support the entire European eco system including equipment and material suppliers. He believes that such 450mm R&D and demo facility will act as the primary innovation engine 5 to 10 years from now.
In addition to government programs aimed at 450mm funding support, other essential policy objectives required to sustain chip manufacturing in Europe were enumerated at the conference. Representatives from existing European fabs cited concerns about "make or break" decisions that pit 450mm against on-going profitable 300mm and 200mm operations.
Rutger Wijburg, vice president and general manager of GLOBALFOUNDRIES Fab1 in Dresden, pointed out that Taiwan has the greatest amount of installed chip-making capacity, followed by Japan, Korea and the Americas. Europe has been surpassed by newcomer China. To be competitive, Wijburg contends that a region requires talent, and engineering environment and investment. Again these criteria he suggests that Europe is falling behind.
A strategy is needed to fill the gap that he refers to as the "Valley of Death" between public sector supports for basic scientific research and private sector funding of product scale up. Wijburg's recommendation for a competitive European microelectronics industry includes improving a strong engineering culture, minimizing geographic legal risks, gaining political consensus on public support for Key Enabling Technologies identified in EU policy programs and increasing capital spending.
Citing his company's own facility as exemplary of European potential, he noted that Fab 1 had been a low-mix, one product (logic) 45nm AMD fab. 32nm is now in volume production and in the second quarter of 2012, the GLOBALFOUNDRIES facility will ramp 28nm in Dresden, which is anticipated to be a long-lived node. He says that the most advanced technology in the foundry world will be available in a high-mix multi-product European fab that will process in excess on one million wafers per year. He also stated that European action to support the KETs programs will drive important applications vital to the foundry's business.
Michael Hummel, managing director, Texas Instruments said that, "Investment alone will not sustain the industry in Europe." He referred to a number of other policy considerations including labor laws, utility cost, and the pipeline of science and engineering talent.
Hummel notes that TI wafer fabs in Europe are competitive. For the analog company, most of the challenges are economic — not technical. The factories are mostly depreciated, so people and energy costs are critical concerns. He said that highly flexible work time models and employees offset the relatively higher labor cost in Europe. Adaptive shift model helps the company to deal with fab loading cycles. TI staff cover the base fab utilization and peak production is achieved with the addition of contractors that make up 40 percent of the TI labor force. Increased flexibility in regulations are needed to sustain or increase the company's footprint. However, the contract labor law is under review and proposed EU mandates may, if passed, limit the very flexibility that TI and other companies need. Therefore, compromise will be an essential policy parameter to sustain the health of some existing European manufacturing.
As the world transitions from carbon-based energy to electric energy, power semiconductors will dramatically help increase energy efficiency. Dr. Reinhard Ploss, member of the Infineon Management Board Operations and R&D and Labor director, Infineon Technologies, said that Europe plays an important role in developing semiconductor applications for energy management and environmental protection. He noted that population growth and increasing global prosperity continue to drive consumption and energy use. One-third of global energy is used as electricity and the U.S., the EU and China are the world's largest electricity consumers. However, most of the energy is not consumed, but lost in generation and distribution.
Considering only its automotive products, ballast control, PC power supply, and Infineon controllers, the company claims that its power products help reduce carbon dioxide emissions by more than 4.6 million tons. Ploss stated that differentiation in power semiconductors lies in mastering technology and manufacturing. Infineon is producing advanced insulated gate bipolar transistor (IGBT) — an important enabler for electric vehicles and hybrid cars among other applications. Ploss noted that the wafer diameter roadmap of power semiconductors lags 10 to 15 years behind CMOS. Now, 300mm technology for power semiconductor production is being introduced in Europe.
In conclusion, conference-goers heard opinions about diverse strategies that recognize the 450mm, 300mm and 200mm interests as well as the critical role that R&D and the equipment and materials supply chain plays — not only for Europe, but around the world. It is increasingly apparent that a thoughtful public policy support is needed to sustain innovation, jobs and critical manufacturing in Europe.
SEMI
www.semi.org