Painting By Numbers
Even 'average' is a good thing when it comes to wafer demand.

By Joanne Itow
Semiconductor revenue growth dropped to a compound annual growth rate of only 3.4% over the past five years and units grew only 3.0%. Throughout the same period, semiconductor wafer demand grew 6.6%, higher than unit growth but lower than the historical average. What caused this decline and will the industry ever get back to 'normal' growth rates?
Figure 1. Annual Growth Rates for Semiconductor Revenues, Units and Wafers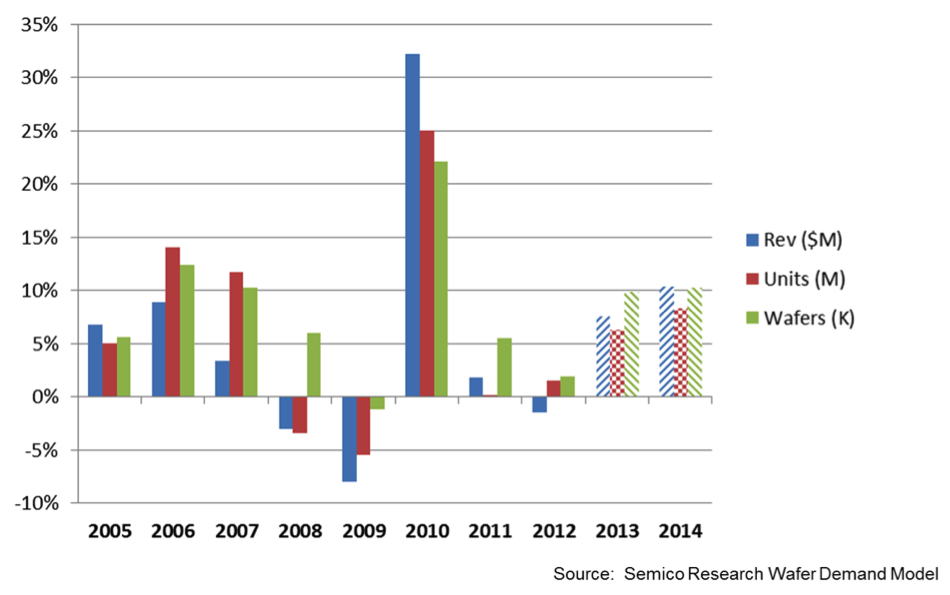 Over the past five years the U.S. economy suffered the worst economic downturn since the Great Depression, and most European economies continue to struggle. Semiconductor revenues have declined three out of the past five years. It started at the end of 2008 with the U.S. financial market meltdown. But in 2010, the industry experienced its best year since 2000.
Why the big swing? The answer is that in 2009 most companies followed the doomsday forecasters and cut inventories to the bone. Unemployment reached a peak of 10.2% and the outlook appeared bleak for consumer spending on electronics.
That all changed in 2010 when cell phone sales roared back to life, increasing more than 22%. Smart phones grew 38%. It became clear that the cell phone was not a luxury item but a necessity for anyone looking for a job. Even among those who had jobs, many people switched carriers to get better deals, which meant getting a new phone. The result was that semiconductor sales rose more than 32% in 2010.
Over the next two years, Semico forecasts a return to historical growth rates. From 2001-2012, semiconductor revenues grew at an 8.0% CAGR. Units grew 7.2% CAGR and wafer demand grew 9.6%. In 2013, wafer demand will grow by 9.9%, slightly above the 10-year CAGR of 9.6%. Total wafer demand will return to historical average, but the product and technology shifts will change significantly.
Most of the investment dollars will be directed at the development of advanced technologies such as 20nm, 14/16nm and the adoption of finFET technology. But there also will be continued demand for mature wafer processing. Productivity improvements and new process techniques will offer significant payback for manufacturers in the mature technology product markets. Expanding smart phone and tablet sales will continue to drive semiconductor unit demand, but the groundwork will be laid for the Internet of Things and big data. As we've seen in the past five years, there will continue to be subtle shifts in the type of manufacturing processes and wafers utilized making the Internet of Things economically possible.
For more information on Semico's Wafer Demand Model, contact Rick Vogelei at [email protected]
—Joanne Itow is managing director of manufacturing at Semico Research.