The Fading Art of Person-to-Person Communication
Keep coming to live events, or we may forget how to talk to each other.

Have you ever sat in your cube at work and received an email from the person sitting next to you? Have you watched your kids text their friends when they're all in the same room? Face it, typing is replacing talking. All this always-on technology is contributing to the demise of simple, person-to-person communication. I sometimes wonder if future generations of well-to-do people will hire professional communicators to do their speaking for them. I hope not.
The industrial version of this is the webinar vs. the conference, or workshop. I am a big fan of webinars actually. They make it easy to participate and learn without leaving your office. On the other hand, there is something about a live event that is hard to reproduce on the small screen. I recently had the opportunity to attend both a workshop and a conference. Naming for these events is varied, but the character of a conference vs. a workshop is very different. I'll discuss the differences in a moment, but they both hold great benefits for the attendee. So here's a plug for live events – let's not give up on them just yet.
The Workshop. This is typically a small event (100 or less in the room). The goal is one-to-many communication, but the event typically fosters a highly interactive dialogue between the speaker and the audience. Questions are encouraged and debate is the norm. At a workshop, you learn but you are also part of the process as others learn. The analogy I would offer is a jazz club. You're watching the performance, but it's usually up close and personal.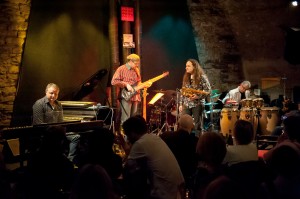 I recently attended the the Electronic Design Process Symposium (EDPS) in Monterey, CA. This is definitely a workshop. I would say about a third of the audience has been coming to the event for a long time (providing consistency for the event) and the rest are new each year (providing a fresh perspective). I'm one of the repeat attendees, and I have always enjoyed the event. You always have time to challenge any speaker's point of view (it's encouraged) and there are plenty of breaks to interact with the folks in attendance. You can find out more about EPDS here. This year, eSilicon presented its experience on IP quality and yield management from the standpoint of both an IP provider and a user in the context of SoC implementation and manufacturing. It was a good discussion. You can learn more about what eSilicon is up to in IP development here.
The Conference. These are larger events. Several hundred to several thousand in attendance. There are sometimes multiple tracks of presentations, and often an exhibit floor as well. This is a very different experience. It's definitely one-to-many communication. The hallmark of good conference is high impact, memorable delivery of relevant information. If the workshop is like a jazz club, a good conference is like a rock concert.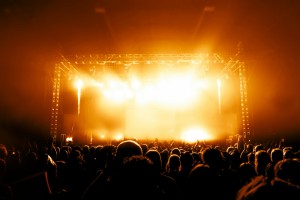 I recently attended the TSMC 2014 Technology Symposium in San Jose, CA. This is definitely a conference, and I would say one the best I've ever attended. Through a series of well-developed presentations, TSMC detailed their accomplishments, plans and overall roadmap for semiconductor design enablement, manufacturing and advanced packaging. A typical agenda for a foundry event some would say. This is true, but the delivery was quite unique. The audience was treated to an immersive, "wrap around" mutli-media experience that integrated presentation content with large images of the speaker, which is very helpful for folks in the back of a very large room. For someone who's sat through thousands of PowerPoint presentations, I will say this was a very different and refreshing experience. You can learn more about the TSMC 2014 Technology Symposium here.
Whether you prefer jazz or rock 'n roll, keep coming to live events, or we may forget how to talk to each other.