Worldwide Semiconductor Market Booms
Record year driven in part by iPhone 6; new players vie for piece of Chinese market.

Worldwide sales of semiconductors have been growing steadily. In September, shipments passed 30 billion units—the highest monthly amount ever for that month, and 2014 is predicted to be a record-breaker when the numbers are finally tallied.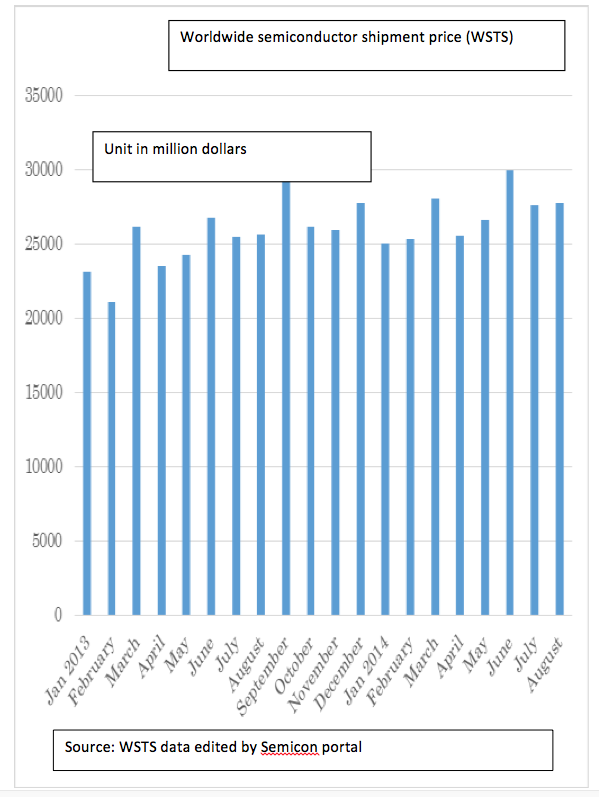 Figure 1. Transition of worldwide semiconductor shipment prices peak in March, June, September, and December. Source: WSTS data edited by Semicon portal
The World Semiconductor Trade Statistics predicted earlier this month that sales for the year would be $333 billion for the year, up 9% from 2013, with the highest growth rates in memory (17.3%), discretes (12.3%) and analog (10.3%), with the majority of growth coming from smartphones and automotive.
At least part of the surge can be attributed directly to Apple's new iPhone 6. KGI analyst Ming-Chi Kuo is widely quoted as predicting 41.7 million iPhone 6 and 15.1 million iPhone 6 Plus shipments in Q4, with a total number of all iPhone models shipped hitting 71.5 million. The shipment volume of each semiconductor for iPhone 6 has been increasing steadily along with those numbers.
The only down market, in fact, has been in China, which showed a decline in smart phone shipments in Q3 compared with Q2. But even China's iPhone 6 sales are beginning to ramp as consumers there clamor for new features (the phone went on sale in October in China). A Chinese reporter who participated in EuroAsia 2014 prior to the Chinese release saw this reporter's iPhone 6 and asked where he could buy it. He mistakenly believed it had been purchased in the United States. People with low-end devices want higher-end devices. In established markets, it's rare to hear predictions of continuous demand for lower-end products.
This is good news for some semiconductor makers. In the iPhone alone, the M8 light sensor co-processor that converts a variety of sensor lights into corresponding motions, as well as the sensors and touch controllers and the A8 processor are all shipping in high volume. In addition, the PCB area was reduced to accommodate wider batteries, thus increasing operating time between charges.
Throughout the year, the smartphone market has been the biggest driver for semiconductor sales—so much so, in fact, that there are new players looking for a slice of the pie. The Chinese market has been dominated by Huawei and ZTE, but Lenovo and Xiaomi have begun pushing into this space, as well. Xiaomi's smartphone uses the latest chips from Qualcomm, and its functionality reportedly is close to phones made by industry giants.
Usually, Q3 sales are highest in these markets, while Q4 drops off. But this year Q4 appears to be quite robust, rounding out a very strong year and likely the highest value ever recorded for semiconductors.