The Trouble With Tradeshows
It's not just about selling something. These gatherings are still the best continuing education vehicle for engineers.

By Kurt Shuler
There's no doubt about it—industry tradeshow attendance is shrinking. If you don't believe me, just look at the trends for a well-known tradeshow in the semiconductor industry, the Design Automation Conference. I'm not picking on any one show. I'm choosing DAC because I could find audited attendance numbers online for this show. Most other semiconductor industry tradeshows will show the same trend.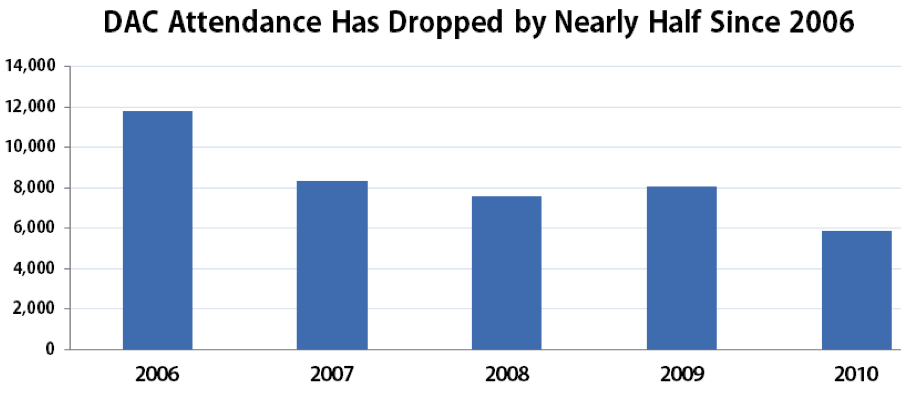 (Here's the source.)
Many people look at the ailing tradeshow industry and wonder, "How am I going to get the word out about my new company or product, now?"
My concern is graver: How will we help practicing engineers keep abreast of the latest academic, technical and commercial innovations and trends?
As a marketing person, when you say, "tradeshow," I think, "booth duty." But for an engineer, a tradeshow is an opportunity to hone one's skills and knowledge at ACM and IEEE peer-reviewed workshops and seminars, learn from engineers solving similar problems to yours, and educate the industry about the technical advances within ones company.
Other professionals, such as lawyers, doctors and accountants, keep current in their knowledge by earning mandatory Continuing Professional Education (CPE) credits from participating in educational opportunities like workshops and seminars. These professions dictate that to be a member in good standing one must have a certain number of CPE training hours per year (For example, in California a CPA must have 20 hours of CPE annually).
However, for the engineering profession, the challenge to keep one's knowledge current is much more difficult. We have evening university courses at places like the UC Santa Cruz Extension and Stanford Continuing Education, but these require a good amount of financial and family sacrifice, and are rarely current with state-of-the-art knowledge. We now have the Internet and Google, but learning through electronic means is a purely solitary affair lacking any larger context or direction. And finally, we have our tradeshows.
It's my hope that the companies in our industry once again support sending engineers to tradeshows, not because I want to sell something to them, but because our tradeshows are the one place where engineers can periodically meet to learn from one another and refresh their knowledge.
–Kurt Shuler is director of marketing at Arteris.